Why measure brain activity?
Dat baby's nog niet zelf kunnen praten, betekent niet dat zij nog niet met taal bezig zijn. Integendeel zelfs. Baby's zijn voortdurend bezig met wat ze horen om zich heen. Om te begrijpen wat er in het hoofd van een baby omgaat tijdens het luisteren naar taal, kunnen we hun hersenactiviteit meten. Wanneer een baby bijvoorbeeld losse klanken hoort of naar een verhaaltje luistert, zijn er bepaalde patronen te ontdekken in hun hersenactiviteit. Door deze patronen te bestuderen krijgen we een beter beeld van de vroege ontwikkeling van kinderen.
Measuring brain activity (using EEG or fNIRS) is a safe procedure used in research centres all over the world to study children's development.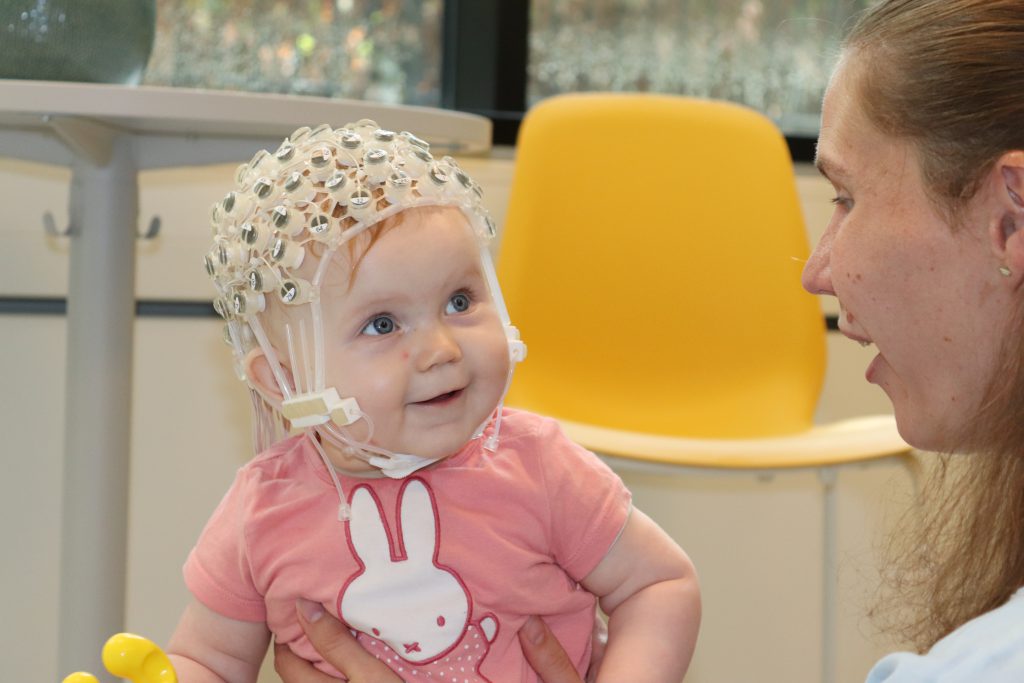 High-tech haarnetje
De methode die wij in ons onderzoek gebruiken, is het meten van hersenactiviteit met behulp van EEG (electroencephalogram). Hiervoor wordt gebruik gemaakt van een speciaal soort high-tech haarnetje, dat de kleine elektrische golfjes kan oppikken die door de hersenen van het kind worden geproduceerd. Meestal wordt er bij EEG een soort badmutsje gebruikt waarin ook wat gel wordt gedaan. Voor ons onderzoek gebruiken wij echter een nieuw soort EEG-systeem, waarbij er geen gel nodig is. Hierdoor duurt het opdoen van het haarnetje hoogstens 1 minuut, wat het extra geschikt maakt voor onderzoek bij baby's en jonge kinderen.
EEG-afspraken
Voor Taal in het Babybrein meten we de hersenactiviteit van uw kind op 3 verschillende leeftijden: 6 maanden, 9 maanden, en 12 maanden. Zo kunnen we goed zien hoe de hersenen van baby's zich ontwikkelen in deze periode. Voor een overzicht van de afspraken kijkt u hier.